Liverpool Landlord Licensing 2022
---
As we have all heard, the selective licensing scheme is due to be re-introduced to the Liverpool city region on the 1st of April 2022.
Details of this announcement can be found at: https://liverpool.gov.uk/business/licences-and-permits/landlord-licensing/
Whilst details are sketchy and not fully confirmed, we do know a few things.
The scheme will 100% be starting and coming into force on the 1st of April 2022, regardless of the timescale in which the final details are released before the date of implementation.
Like last time, properties are likely going to require the following features and/or documents:
EPC (Energy Performance Certificate)
Gas Safety Certificate (if applicable)
EICR (Electrical Inspection Condition Report)
PAT (Portable Appliance Test) for supplied electrical items such as white goods
A floor plan with room measurements
Smoke alarms on all floors (physical proof may be required)
Fire blanket within the kitchen
Fire risk assessment
Fire alarm test certificate (if applicable)
Emergency lighting test certificate (if applicable)
As the final details of the required documentation and items have not been officially released to date, every effort should be made to have the majority of the above in place to ensure a smooth process when applications are submitted and processed.
A discount may be applicable to the licensing fee if your property holds an EPC rating of band A, B or C. We are awaiting confirmation of this.
The map below shows the proposed areas of licensing, you will note that not all areas of the Liverpool City Council region have been included within this new requirement. We have been informed that there is a possibility not all areas within the highlighted wards will be included within the scheme, so please wait until a definitive decision is published.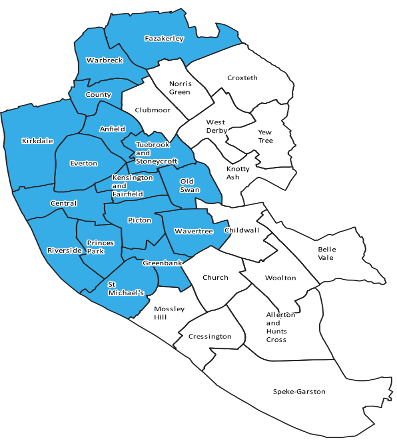 Failure to comply with the requirements of the Selective Licensing Scheme could result in fines not exceeding £30,000 per offence.
We understand that this new scheme and the subsequent tasks involved in acquiring the selective license can be both daunting, and in some cases, a physical impossibility due to time and locational constraints.
At Lewis & Foy Lettings, we would be delighted to assist in the process of obtaining and more importantly, maintaining the conditions of this scheme.
Please contact us directly to discuss your concerns and/or requirements.